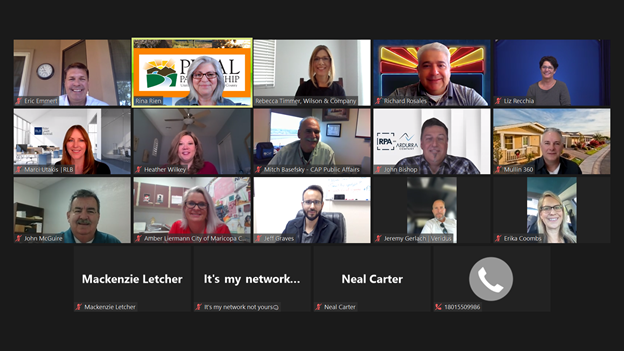 Committee Co-Chair Rebecca Timmer of Wilson & Company introduced Guest Speaker Eric Emmert, Dorn Policy Group to provide a review of the 2022 legislative session.  Over 1,700 bills have been submitted thus far with 22 passed. Increased federal dollars are coming our way and the Arizona Budget for FY 2021 is at $13.8 billion, with a likely surplus of $3.1 billion.  Prop 208 tax increase on high income earners is dead due to expenditure limit in the constitution which invalidates the law.
266 water bills have been issued.  Lake Mead and Lake Powell decreases will trigger significant distribution impacts. Controversy between property rights vs. transferring water rights to urban areas is challenging legislators.  Economic Development themed bills are meant to address workforce shortage and broadband access.   HB 2678 will establish a State Broadband Office.
Eric highlighted HB 1093, Business Property Assessment Ratio reduction from 18% to 15%. Arizona businesses are paying more by percentage of assessment in property taxes than surrounding states.  This will make us more competitive as property values have increased and percentage reduction offsets the whole price tax paid.  Eric feels it has a good chance of getting passed as it phases in and increasing values make it revenue neutral.
Regarding business issues, COVID 19 liability legislation is moving through as businesses are dealing with lawsuits due to mandates.  COVID 19 legislation and COVID 19 being a protected class was discussed.  Federal government protected class standards conflict with mandates.
Electric liability bills dealing with antiquated issues due to deregulation were also highlighted.
Transportation bills affecting Pinal County are moving forward with I-10 widening a top priority with Governor Ducey and TJ Shope leading the charge.  SR24 bill to extend further to the east is sponsored by Representative Cook and has traction.
There was discussion regarding the ability to transfer water certificates from manufactured home communities that don't need them.  The proposed new water authority will help iron out water rights vs. property rights issues.
Heather Wilkey commented on how the Maricopa County sales tax extension benefits Pinal County since MAG has opportunity to match federal funds to support Pinal road projects.   Water rights transfer bills have been supported by Representative Carter.
Mitch Basefsky, CAP reported no new update on the CAP bill HB2409 and anticipates it has a good chance of passing.
Thank you to Eric and Dorn Policy Group for presenting to the PPGRC! Powerpoint presentation shared by Eric can be viewed here:
https://pinalpartnership.com/wp-content/uploads/2022/03/2022-Pinal-County-Presentation.pdf
Rebecca reported that the Partnership's Executive Board has approved guidelines for legislative and initiatives support requests.  This will be the Partnership's guidelines moving forward.  Letter of support verbiage provided with the request will help expedite review and approval. Guidelines can be found here:
https://pinalpartnership.com/wp-content/uploads/2022/03/Pinal-Partnership-Guidelines-for-the-Review-and-Evaluation-of-Proposed-Legislation.docx
John McGuire congratulated Heather Wilkey and Queen Creek for bringing LG and 2,800 jobs to Pinal County.
The PPGRC welcomed Richard Rosales, APS as the new Co-Chair of the Committee. Thank you for stepping up and serving, Richard!
The next PPGRC Meeting will be April 26th at 8 am.