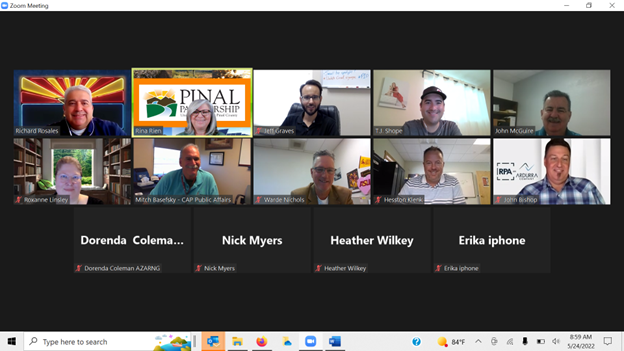 Committee Co-Chair Richard Rosales of APS introduced guest speaker Arizona State Senator T.J. Shope. Still in session but closing in on June 30th date.  Full complement of legislators on the floor yesterday to get things moving.  Bill on I-10 widening is now in the grant process in Washington DC for $300 million, with hopes for a successful outcome anticipated in the fall.  Teaching academy is now producing new graduates delivering on staffing shortages as people retire.  As a result SB 1271, a tuition waiver for $100,000 for veterinary schools gaining steam. K-9 for Warriors pairs vets with trained dogs financed by $5,000,000 appropriation. Russ Jones, active with Heritage Fund and State Parks, working on funding for heritage districts. Budget surplus over five billion has increased activity to generate new agencies versus expanding existing ones.  After ten years, TJ is now one of the most tenured members as over a dozen members retire this year.
TJ Shope was asked about water issues.  He indicated while focus is on desalinization controversy, more attention and funding could be directed at existing infrastructure, like Verde Valley that is a one-time improvement that doesn't commit long term dollars. Story just came out about build to rent developers skirting water certificate requirements and ADWR is looking into issue.  There is a lot of discussion of the federal government's need to act, revisiting allotments and addressing the reality of the current situation.  TJ believes everything should be up for discussion and multi-faceted, multi-state solutions addressed.  Mitch Basefsky indicated allotments must be renegotiated before expiration in 2026 and meetings have been underway since 2020.
Mitch Basefsky promoted the CAP University session June 21st 9-11 a.m. as an opportunity to further the conversation on water solutions. Here is the link to sign up for the June 21 CAP University on Shortage: https://www.cap-az.com/community/cap-university/
The conversation shifted to rare earth minerals and need for raw materials like copper and other materials to be produced domestically to meet increased demand for electric cars, solar panels, etc.   TJ Shope indicated we need allies at the federal level and to work with our neighbors on trade deals like accessing supplies of lithium just south of the border.
Rina Rien let the group know that the next Pinal Partnership Membership Breakfast will be held on June 10th at the Central Arizona College – Signal Peak Campus featuring Arizona State Representatives Teresa Martinez, Neal Carter, David Cook and Senator TJ Shope for a Legislative Update.
The next PPGRC Meeting is scheduled for June 28th at 8 am.