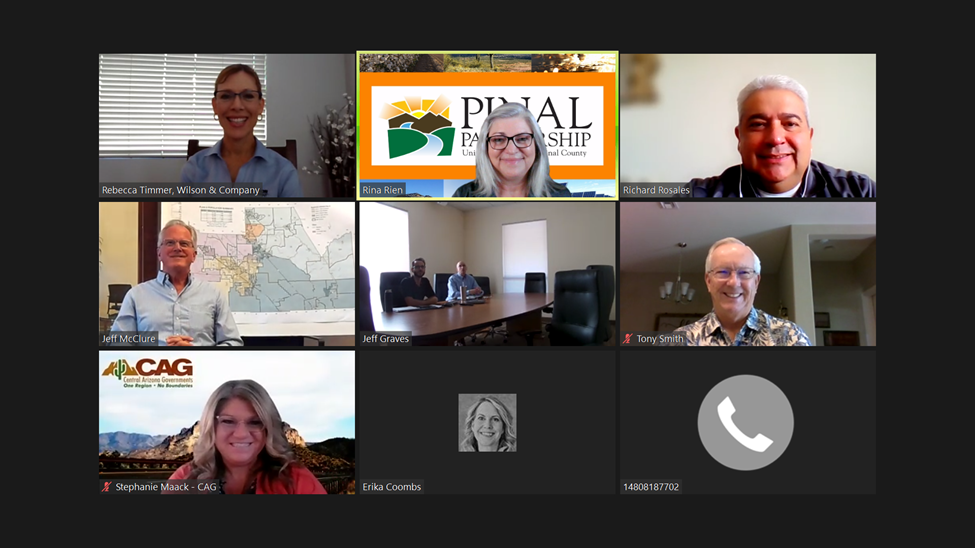 Committee Co-Chair Richard Rosales introduced guest speaker Pinal County Chairman of the Board of Supervisors, Jeffrey McClure.
Chairman McClure shared a new contractor has been hired to complete Sunland Gin Road improvements, starting work in September with completion this fall.
He shared the last-minute missteps that led to the election failures and is confident Virginia Ross will be leading the charge to a successful election in November.  Dana Lewis has been appointed as Recorder to replace Virginia. The significant increase in voters requires more staff, additional office space and budget. A systems analyst will be addressing the department needs of what is basically a manufacturing operation.  The County rescinded fees for municipalities. The study session last week included a call to the public so voters voices could be heard.  Ballot proofs will be out in the next few weeks with a tight timeline to print in September.
Tony Smith, President of Pinal Partnership, suggested opportunities to address concerns in Coolidge about the redistricting lines that could be discussed after the election has passed.  The Chairman shared the census data drove redistricting efforts and the independent commission was generated by statute.  After legislative and congressional districts were redrawn, the county took on the task of redrawing precinct lines.  Supervisor districts are not by statute and negotiated based on their constituent base, population and geography.
Richard Rosales shared Pinal County issued 324 permits, the most permits of any county for the month of July in Arizona.   Chairman McClure shared an audit has been done of the development department to identify and rectify shortfalls.  Brett Billingsley is now head of Planning and Development and is reviewing staffing needs to improve response time.  The Assessor's office is challenged to find qualified candidates as they experience delays assigning parcel numbers.
Chairman McClure shared the SunZia Project in Oracle and locations of new transmission lines are up for a public hearing on September 6th.  The routing of the lines is a moving target but necessary to transfer power from New Mexico.  Challenges to bring in the necessary power for growth and development will continue to require informing and educating the public.
Co-chair Rebecca Timmer reiterated the mission of Pinal Partnership and the Government Relations Committee, which is to unite and educate our membership and stakeholders regarding long-term growth and economic development.
Mark your calendars for the next Pinal Partnership Breakfast is September 16th featuring a PRTA Update and Call to Action.
The next PPGRC meeting is September 27th at 8:00 a.m.  Pinal County Supervisor Stephen Miller and CAP representative and committee member, Mitch Basefsky will provide updates. Tony Smith, President of Pinal Partnership will provide the latest PRTA Ballot Initiative news.