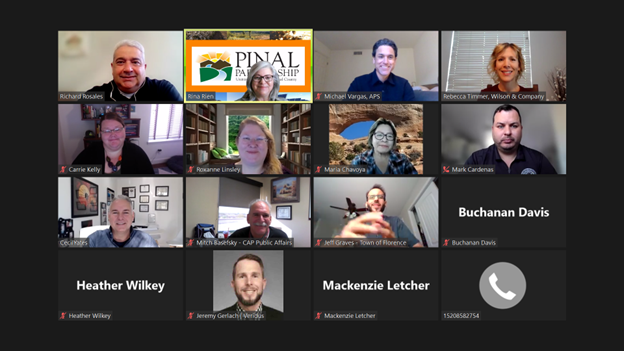 On Tuesday, November 15th, Committee Co-Chairs Rebecca Timmer of Wilson & Company and Richard Rosales of APS facilitated the Government Relations Committee Meeting. Guest speaker Michael Vargas, Director of State Affairs for APS.  Michael provided an overview of election results:
Race for Governor officially called for Katie Hobbs last night

First Democratic Governor since 2009
First since 1950 that AZ has 2 Democratic Senators and Governor

Ballot Initiative passed to create a Lieutenant Governor position effective 2026

One of only 5 states to not already have a Lt. Governor position

Extended ballot-counting process has renewed conversation about delays in finalizing results

Early ballots received day of election required signature validation by statute before tabulating which resulted in delayed results
Multiple close races also prevented several races from being called on election night
Expect legislative moves in next session to revamp statute

Attorney General and Superintendent races still too close to call
AZ CC Republican Kevin Thompson and Nick Myers appear in lead to take seat
Adrian Fontes winner of Secretary of State
Recount could be initiated at .5% or roughly 10,000 to 12,000 vote differential
In Pinal County, Martinez and Shope have commanding lead, with Keith Seaman currently leading Hudelson for 3rd seat
In US elections, Republicans appear to have the House majority, with Senate pending Georgia run-off in December

Mark Kelly called as US Senate for AZ
Richard shared the Pinal County election went very smoothly after primary missteps.
Proposition 469 currently is not shown as passing but may trigger recount
Wednesday, November 16th at 5 p.m. is the deadline for the count
PRTA Board and County will work together on next steps
Jeff Graves of Florence shared Prop 460, approval of general plan, appears to be passing
MacKenzie Letcher, Assistant to City Manager of Casa Grande gave update:
Term limits passed on councilmember, but Mayor's term limit measure did not pass
Most bond measures did not pass
To view Pinal County Election Results:  https://www.pinalcountyaz.gov/elections/pages/electionresults.aspx
Mitch Basefsky of CAP announced Brenda Burman will be the new General Manager.
Rebecca shared next PPGRC meeting early December 13th will include committee appreciation Pancake Breakfast in-person hosted by APS in Casa Grande.  Agenda will include 2023 action plan for approval.
Rina shared the Pinal Partnership breakfast registration for November 18th and December 16th are available online on the events page: https://pinalpartnership.com/meetings-and-events/