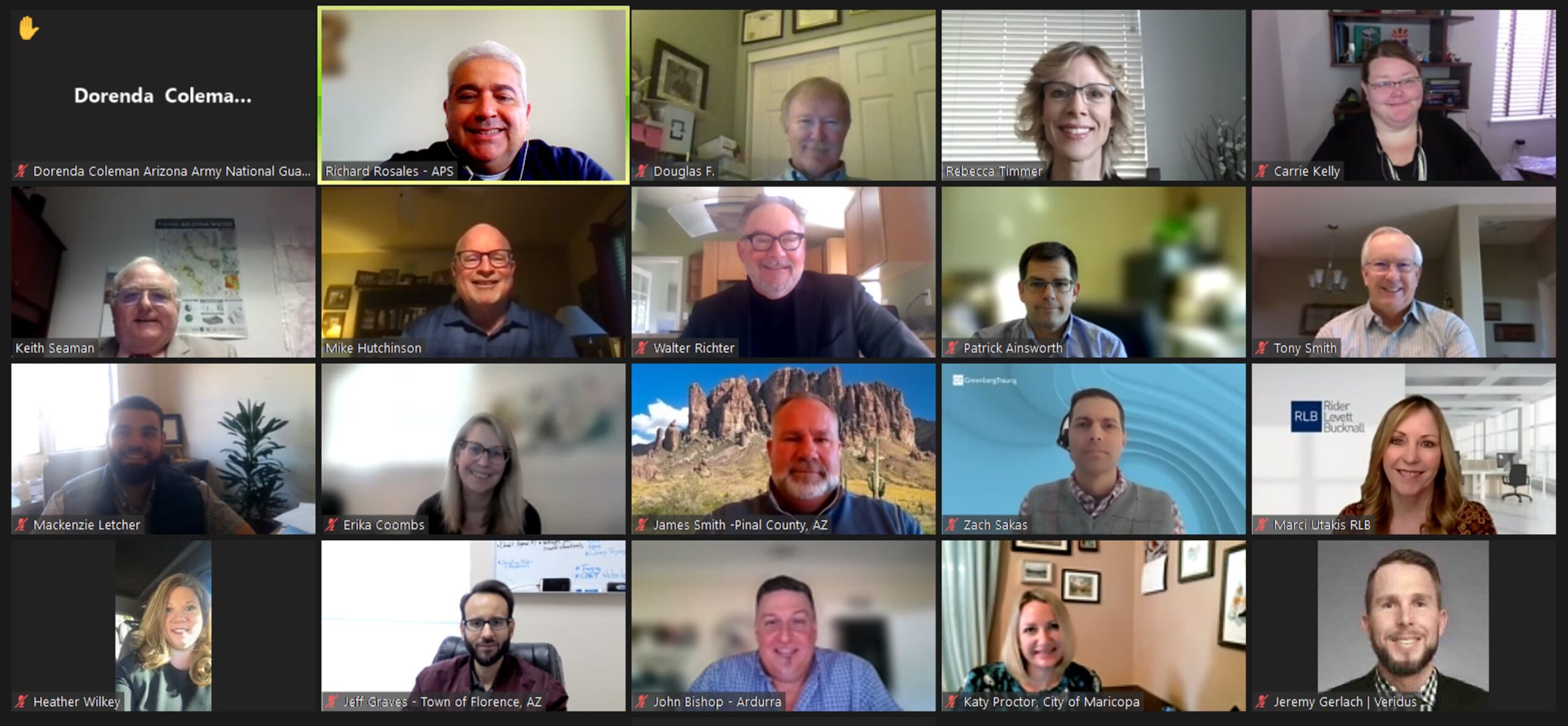 On Tuesday, February 28th Committee Co-Chairs Rebecca Timmer and Richard Rosales of APS facilitated the Government Relations Committee Meeting. The committee member spotlight featured Katy Proctor, Intergovernmental Director for the City of Maricopa.  Highlights from her comments include:
Katy's services in state government spanned 22 legislative sessions and included several branches of state government including the Department of Public Safety, State Supreme Court and the State House of Representatives.
Her new role with the City of Maricopa began 3 months ago with the following focus:

Education and Workforce Development throughout Pinal County to ensure we remain competitive in attracting commerce to our region
Working on legislative bills that would be positive to the community including transportation funding, working closely with regional agencies like MAG and the League of Cities
Represent the City with integrity at every level of government
Rebecca introduced guest speakers, Carrie Kelly of AAED and Mike Hutchinson, East Valley Partnership.
Highlights from Carrie Kelly:
Shes been with AAED since April 2020 and made a long-term strategic plan the priority.
AAED formed in 1974, with 50th Anniversary in 2024. Started as a business recruitment organization.  As the State formed the Arizona Commerce Authority, AAED moved to an organization to serve as unified voice for Arizona for responsible economic development.
Unique to AAED is the statewide effort with special focus on rural communities. Members are private sector and practitioners, municipalities, GPEC, Sun Corridor, SBDC to name a few.
Strategic Plan is being updated for release in July maintaining 3 pillars: Educate, Advocate, Collaborate.
Certification programs available to members and elected officials
Government Affairs Committee very active, meeting every 2 weeks during the session to discuss yearly policy priorities, grass roots advocacy efforts and produce weekly newsletter focused on legislation, called AAED: Where We Stand.
Policy priorities this year: infrastructure, development agreements relative to incentives and restructuring to prevent litigation, increase Arizona's competitiveness with a focus on workforce development and water issues
Survey supported education and workforce development as part of infrastructure, but definition changed with areas of focus.
Housing and water issues are anticipated to be elevated as economic development concerns as NIMBY sentiments rise.
Mike Hutchinson, East Valley Partnership highlights:
Partnership started 41 years ago
East Valley (Tempe, Gilbert, Mesa at the time) was not getting their fair share of Phoenix Metro resources and funding.
Advocating for East Valley was informal until early 2000s when an Executive Director was employed.
Teamed up with Phoenix 40 group, collaborating on transportation, 1985 tax legislation to build freeways.
Focus on transportation, infrastructure, representation on state boards.
Collaborated with Pinal County leadership on Superstition Vistas where they worked with Sandie Smith to establish Pinal Partnership.
Committee recommends legislative support to Board in January and lobby once the priority document is approved.
Zoom meetings continue monthly and support issues provided by non-profit organizations and other members that need support.
John Lewis is CEO and legislators are invited to board meetings and advocacy committee meetings to review priority document.
Big priority now is moving forward transportation legislation the governor vetoed last year.
Representative Keith Seaman shared that a lot is happening with transportation for Pinal County with bills focused on Maricopa Highway 347, Coolidge Highway 87, Highway 24 extension and of course the I-10 widening.  Lucid has bills in the works that give them competitive edge. He is on the Transportation/Infrastructure Committee and wants to hear from Pinal County on priority legislation. This week is crossover week where bills will move to the senate and he plans to attend the AAED Legislative Luncheon on the Lawn March 6.  Mike Hutchinson and Heather Wilkie shared appreciation to Representative Seaman for his work on the Committee and MAG's push for light rail.  Heather shared Prop 400 Extension has impact on Pinal County with funding benefits.
A question was raised on SRP update on Bartlett Dam.  Mike Hutchinson shared he's on the advisory committee and the strategy is going to take some time but they are making steady progress.  Heather Wilkie shared Queen Creek is one of the partners and negotiations are underway relative to partner allocations.
Dorenda Coleman encouraged members to reach out to the Air National Guard for support on legislative issues.
Tony Smith shared both bills relating to Pinal County's transportation tax funds did not make it out of committee.  He hopes to have more updates next month.
Walter Richter of Southwest Gas shared his appreciation for support at the Corporate Commission on the rate case providing infrastructure support by the utility for future infrastructure needs to support economic development.  The testimony from those including Tony Smith weighed heavily on the positive outcome.
Richard Rosales shared the GIS Map generated through a partnership with Pinal County and Pinal Partnership is now available to the public and Tony Smith shared the next phase will include a printed map with focus on economic development.
The next Pinal Partnership breakfast is March 31 featuring the Pinal County Supervisors at Ak-Chin Circle Elements Event Center and the registration is on the website event page.
The next Government Relations Committee Meeting will be held on March 28.