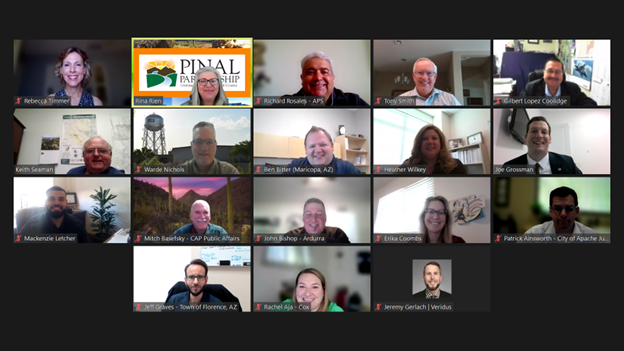 On Tuesday, March 28th, Committee Co-Chairs Rebecca Timmer and Richard Rosales of APS facilitated the Government Relations Committee Meeting. The intergovernmental affairs representatives from throughout Pinal County have been invited and committee member spotlight featured Mitch Basefsky of Central Arizona Project. Highlights from his comments include:
Mitch Basefsky has been with CAP for 14 years in the public affairs department has responsibility for stakeholder and community relations for Pinal and Pima County.
o Lake Powell inflow is expected to be much higher than anticipated months ago, but we will continue to be in level 2A shortage.
o Mitch clarified there is storage capacity in Roosevelt Lake and the SRP system. There is now a project to allow CAP and SRP to interconnect.
o The System User Agreement will allow others to put water into the CAP system is in process with the Bureau of Reclamation.
o CAP is involved in discussions exploring new water sources but remains focused on the existing system improvements and access.
o Quarterly online classes through CAP University are available to provide information on timely topics: https://www.cap-az.com/community/cap-university/
Rebecca called on intergovernmental affairs representatives to share what bills they are tracking:
o Gilbert Lopez of Coolidge indicated the food tax bill had been held back but is now going to the Governor. Rural Arizona will be more heavily impacted as a larger percentage of the budget for small cities rely on food tax. Larger metro areas like Phoenix and Tucson do not have a food tax.
o Ben Bitter of Maricopa shared the HB 2003 bill lowering corporate income tax. Tax changes at the state level also filter down to cities and towns, such as the flat tax rate. Maricopa was receiving a 15% share and will be bumped up to 18% to help compensate for use with one-time projects. Several bills at the state level will impact funds flowing down for public safety and local programs
o Ben also highlighted HB 2543: $330 million RTAC bill would provide critical funds for rural communities to improve local roads
o Jeff Graves of Florence reinforced the need to maintain the food tax utilized for recreation and key projects including improvements to rodeo grounds this year. RTAC bill is critical for Hunt Highway improvements with 7.5 million earmarked in that bill. North South with ADOT working through Tier 2 environmental process.
o Heather Wilkey of Queen Creek supports HB 2809, a collaborative effort with other cities to seek reimbursement for 80% of public infrastructure (roads, water, and wastewater) in support of advanced manufacturing. LGES has announced an increase in their capital improvement investment to $5.5 billion. The reimbursement funding comes from the state share of construction sales tax generated from the facility. The cap is currently at $100 million, but we'd like to see the cap removed to open the program up to other prospects in Pinal County.
o Heather highlighted over $300 million in local projects including SR-24 (Ellsworth-Ironwood) tied up in the extension of Proposition 400. SB1246 is the only bill moving forward but doesn't allow implementation for the plan as approved by the MAG Mayors. MAG has planning jurisdiction over Pinal County and is able to leverage federal funds with the ½ cent sales tax which can be expended on arterial widening in Pinal County. The Town is also seeking appropriations with Pinal County for the SR-24 from Ironwood to the CAP canal for design and engineering (HB 2289- $18M) as well as construction ($64.5M). HB2536/SB 1163 (versions of SB 1117) are zoning bills of concern downsizing zoning designations and lot sizes in existing communities and taking local control away. These are critical to be defeated.
o Mackenzie Letcher shared that the food tax bill is also a major concern for Casa Grande and would have a $4 million impact. He also mentioned that the city is closely monitoring SB1313 which includes language that could potentially impact the City's Florence Blvd Streetscape project. The city is currently evaluating the language in the bill to determine if it would influence concepts introduced by the design team.
o Representative Keith Seaman shared an update on the transportation bill HB 1065 to fund I-10 widening hasn't come out of committee and the amount of funding remains uncertain. Highways 347, 238, 87 and 84 are focus points on transportation funds through the budget.
o Joe Grossman of EPCOR highlighted HB 1660 concerns about unfettered pumping of ground water for industrial projects.
The next Pinal Partnership breakfast is March 31st featuring the Pinal County Supervisors at Ak Chin Circle Elements Event Center and the registration is on the website event page.
The next Government Relations Committee Meeting will be held on April 25th.