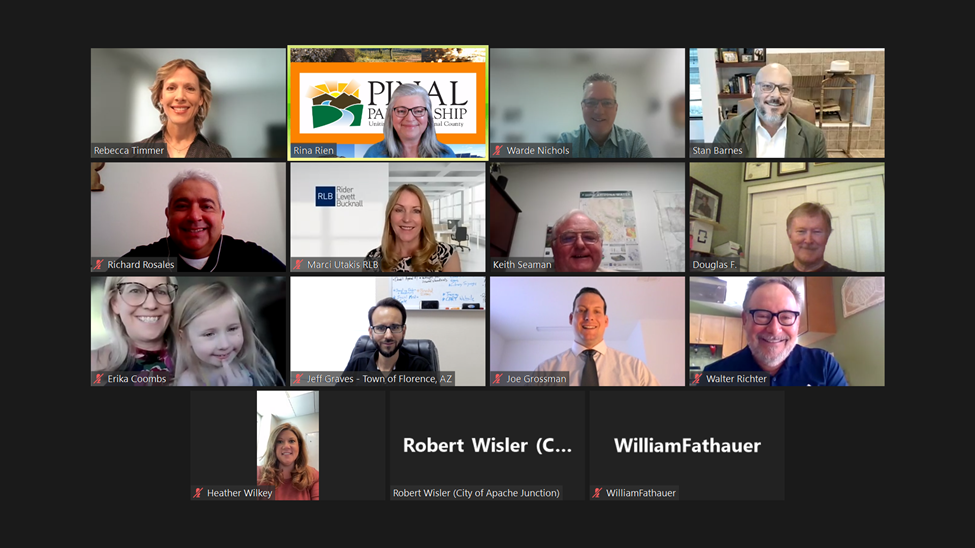 On Tuesday, April 25th Committee Co-Chairs Rebecca Timmer and Richard Rosales of APS facilitated the Government Relations Committee Meeting. This month's committee member spotlight featured Erika Coombs, Senior Vice President with Piper Sandler & Co. Highlights from her comments include:
· Erika Coombs has served in public finance for past 16 years.
· She is an Arizona native and identical twin.
· Joined Piper Sandler & Co. 2 years ago as financial advisor, placement agent, works with municipalities and school districts.
· Currently creating a community facilities district for Apache Junction/DR Horton
Rebecca introduced this month's speaker, Stan Barnes, President of Copper State Consulting Group
· Copper State is a full-service political consulting and public affairs firm founded in 1997 by Stan when he retired from service as a member of the Arizona Legislature
· For the past 30 years, Stan has been involved in every facet of Arizona governance and media and is viewed as a seasoned and well-reputed veteran of Arizona politics.
· Stan was recently named by Campaigns and Elections Magazine, a respected industry publication serving elected officials and consultants nationwide, named Stan Barnes as one of the 5 most influential Republican consultants in the State of Arizona.
· He is a 4th generation Native raised on a cotton farm in Pinal County. Roots in Pinal County started with his great-grandfather in 1930s moving here to farm. Grew up with "Huckleberry Finn" childhood and amazing to watch transition in Pinal County's growth.
· He has participated in 35 legislative sessions.
· It's important to the success of Arizona self-governance that people engage civically.
· Razor thin majority in both House with "Grand Canyon" sized gap between governor and legislature
· On the floor of the house and senate, reverence and decorum is no longer there. We're in a fever that hopefully will break soon. There is not much reward for being a thoughtful legislator. Compromise is not rewarded.
· Tamale Tuesday is very interesting, Katie Hobbs has served in many positions but now is getting a taste of what it is to be leader in a very difficult time.
· Rep. Hernandez is joining Republicans to override the governor's veto of HB2509. Other Democratic members may also, but it appears the Override will fail because Democratic Legislators are protesting the Governor.
· A member of the legislature was expelled, which you don't see every day, and the same legislator was one of three nominated to be the replacement.
· Proud of Pinal County and its leadership. County Manager, Leo Lew and the Board of Supervisors are thoughtful and accessible people.
· Worked with committee member, Doug Fant on SunZia transmission lines and it's a pleasure to travel around the county working with quality people.
· Working on LG Energy Solutions battery manufacturing plant with Supervisor Goodman. Was brought on to assist LG after neighbors voiced concern and challenged project on social media. Elected Leadership support is crucial and provides context to business culture in U.S.
· It's a great time to be part of Pinal County's growth and see the family farm evolve into an urban environment with housing, retail, and industry.
Rebecca referred to the Pinal Partnership breakfast panel last Friday featuring water resources and asked for Stan's perspective.
· Stan observed the simple answer offered by some to stop growing alfalfa and cotton is not so easy. The Pinal economy is inter-related with agriculture and the impact would be huge.
· Part of the answer is water transfer to allow use such as Harquahala where the water can be moved to Queen Creek and other communities where needed to fuel growth.
· The natural phenomenon of growth with housing development replacing agriculture will improve the situation dramatically.
· It will take water management and discipline that will be politically challenging along the way.
· Behaviors have changed dramatically over time due to pressure among peers in the legislature. Blames social media as accelerant.
· Noise from opponents is unrelenting and is exacerbated when lawmakers themselves start feeding it. It has become so adversarial it is heartbreaking to see.
· Hopes that this is a moment that we will move through with individuals that are willing to work together.
· Some candidates and consultants are looking at different ways to get away from extreme views driving who wins in the primary.
· Ruben Gallego vs. Krysten Sinema vs. Kari Lake will determine the temperature and will be a barometer of what Arizona is today. If Sinema wins, independent candidates will see an opportunity.
The next Pinal Partnership breakfast is May 26th in Florence. More information forthcoming.
The next Government Relations Committee Meeting will be held on May 23rd.