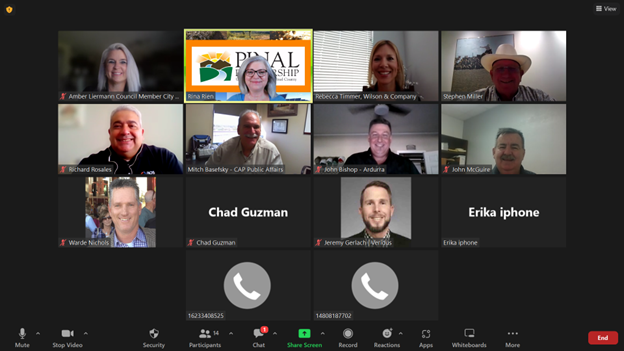 Committee Co-Chair Rebecca Timmer congratulated committee member and Maricopa City Council Member, Amber Liermann, is the newest Pinal Partnership Board Member, replacing Mayor Nancy Smith.
Rebecca introduced guest speaker, Pinal County Supervisor, Steve Miller.
Supervisor Miller shared the AMA Stakeholder's Group met with ADWR and had a positive response reviewing the water resources report. ADWR was responsive to the data and follow up meetings will continue to further explore the technical data.  The Certificate of Water Certification process will be revised and the ADWR will consider a three-prong approach focused on ground water, surface water and recharge solutions. Supervisor Miller responded to a question regarding when certificates may be issued again in Pinal County.  He indicated legislation and new statutes will have to be in place, so it may be a couple years before certificates are issued again. The Phoenix Business Journal is sponsoring an event featuring Pinal County at Wild Horse Pass on Wednesday with a presentation by Terri Sue Rossi of Arizona Water.  Rina will follow up to obtain Terri Sue's presentation and to register for the event: https://g.co/kgs/i6ip8z
PRTA update from Supervisor Miller stressed the importance of passing Proposition 469.  In the Casa Grande portion of the pamphlet, there are two pages of ballot initiatives, so getting voters to focus on this initiative is critical.
A mock election will be held in the coming weeks to explore election procedures and test the process prior to November.  More volunteers are needed for polls on November 8th.  Interested parties should contact the Pinal County Recorder's Office at: https://www.pinalcountyaz.gov/RECORDER/Pages/Recorder.aspx
Regarding economic development, Supervisor Miller sees the CHIPS Bill as a positive to create interest in Pinal County for supply chain manufacturers. County positions for economic development department will be posted soon.
Richard Rosales asked if we were still processing a record number of permits, and Supervisor Miller indicated there has been a downturn, driven by increasing interest rates.
Rebecca Timmer introduced Mitch Basefsky, representing Central Arizona Project.  He shared the latest update on the Colorado River Basin.  Lake Powell is 27% full, at a 3530 elevation.  Lake Mead is 28% full, benefitting from extra runoff this monsoon season. Extended drought is providing less runoff flow than allocated 17 of the last 21 years. This year we were in a Tier 1 shortage and next year will be in Tier 2A, having most significant impact on agriculture. The Tier 2A shortage will eliminate the agriculture pool entirely and begins to affect municipalities and tribal allocations. The Bureau of Reclamation is working to offset some of the imbalance. The 2007 Guidelines and 2019 Drought Contingency Plan established the tier system and voluntary agreements between the 7 states.  Arizona is taking a leadership role to leave water in Lake Mead.
Rebecca Timmer asked about those not participating in the volunteer program, and Mitch shared they will be required to do so if we move to the Tier 2B shortage level. The 3530 level in Lake Powell is critical because 3525 has been identified as the point where no more water can be released from Lake Powell to Lake Mead. Level 3490 is the minimum power pool that will impact energy production at Glen Canyon Dam.  The ARC Committee in Arizona is working on how Arizona will respond to the participation by other states in the coming years. Long-term solutions include augmentation like desalination which will be more costly, looking at the CAP system to carry non-CAP water. Recharge projects like Tonopah Desert could also be put into the CAP system. Conservation, Reuse and Recovery are all being studied.
To download Mitch Basefsky's presentation: https://pinalpartnership.com/wp-content/uploads/2022/09/Mitch-Basefsky-Pres-092722.pdf
Rina Rien, Executive Director of Pinal Partnership, indicated the marketing campaign and signage installation is now underway for Proposition 469 and will include region-specific messaging about the value of the funding to specific communities.  Tony Smith, President of Pinal Partnership, has created an informational PowerPoint that can be downloaded here: https://pinalpartnership.com/wp-content/uploads/2022/09/Pinal-Partnership-Presentation-Prop-469.pdf
In addition, the livestream recording from the September 16th Breakfast on the PRTA Update is a resource along with direct links to Prop 469 website can be found in the following newsletter link:
Mark your calendars for the next Pinal Partnership Breakfast October 21st with more details coming soon.
The next PPGRC meeting is October 25th at 8:00 a.m.