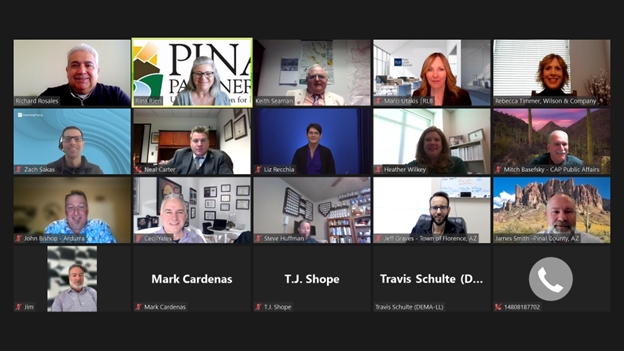 On Tuesday, January 24th Committee Co-Chairs Rebecca Timmer of Wilson & Company and Richard Rosales of APS facilitated the Government Relations Committee Meeting. The committee member spotlight featured James Smith, Economic and Workforce Development Director of Pinal County.  Highlights from his comments include:
Education and Workforce Development needs to be a priority for Pinal County to continue to be competitive in attracting commerce to our region
Mining operations are critical to providing the components for electric vehicle battery production.
Strategic location between Phoenix and Tucson, interstate and rail access continued to make Pinal County a major draw
78% of Pinal residents leaving county to go to work. Providing jobs closer to home is a strategic goal to take pressure off roads and enhance quality of life
Pinal County wages are increasing, contributing to better quality of life leading to lower poverty rates
Strategic use of State Trust Land is critical to our continued growth with 275 square miles of land remaining in Pinal County
Transportation requires innovative solutions for building connector roads to employment centers, public transportation, rail access.
See James Smith's presentation by clicking here
Richard Rosales introduced legislator guest speakers, Senator TJ Shope, Representatives Keith Seaman and Neal Carter. Over 50% of legislators are new to state leadership.
Senator TJ Shope

President Pro-Temp in Senate, Chair Health and Human Services, Vice-Chair of Natural Resources, Energy and Water, member of Election and Rules Committee
Transportation and Water Resource funding priorities this session
I-10 federal grant denial generated SB1065 to add $360 million in state funds to the $400 million already approved with a provision to reimburse the state general fund if future grant is received

Representative Keith Seaman

Committees: Transportation Infrastructure and Land, Agriculture and Rural Affairs
Transportation issues affecting Pinal County include Route 347 funding and 187 (Smith Enke Rd.) in Maricopa
Coolidge widening of 87 big priority with industries arriving like Procter and Gamble
Seaman's educational background will serve to support efforts to provide more funding to CAC

Representative Neal Carter

Chair of Ways and Means and on Transportation and Infrastructure Committee, and Commerce Committee
Requested partial funding for Parkway, North/South Corridor at request of Supervisors
Request for additional funding for widening Hunt Highway
AZ Farms at Gila River Community needs improvements for public safety
The PPRGC members extended a thank you and welcome to the legislators for their efforts on behalf of Pinal County.
Rebecca shared AAED Lunch on the Lawn is March 6th.  February 6th is last day to introduce legislation and February 17th is the last day to hear bills in committee.
The next Government Relations meeting on February 28th spotlight will be with Katy Proctor, Intergovernmental Affairs Director for the City of Maricopa. AAED and East Valley Partnership will be guest speakers sharing policy priorities for 2023.
Rina shared the Pinal Partnership breakfast registration for February 10th invite will be out this week.