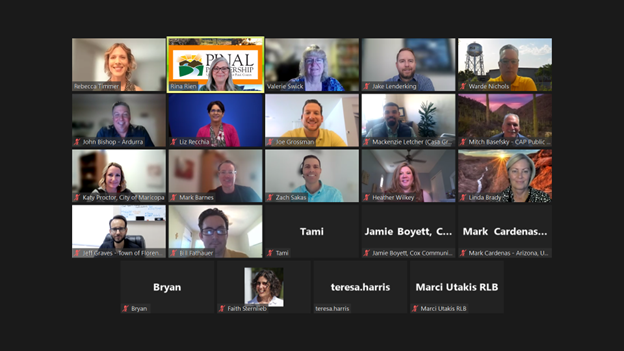 On Tuesday, May 23rd Rebecca Timmer facilitated the Government Relations Committee Meeting featuring a joint presentation with the Pinal Partnership Water Resources Committee. This month's committee member spotlight featured John Bishop of Ardurra. Highlights from his comments include:
John is the Arizona Site Civil Group leader for Ardurra
John has 30 years of engineering experience including work in many Pinal County cities and towns
Ardurra opened in 2017 and core practices include water, transportation, and public works,
Wide variety of services include airport and aquatic design nationwide, drainage and construction management specific to Arizona
Since 2017, Ardurra has grown from 100 to 1200 employees and 72 offices across the nation
Ardurra has 135 open positions across the country – jobs available!
7 offices in Arizona from Flagstaff to Phoenix, Mesa and a new office in Tucson planned
Acquired several local Arizona engineering firms
Ardurra has extensive experience in federally funded projects and work with clients to deliver grants and other funding sources
Ardurra has experience in creating special districts like municipal improvement districts and community facilities districts provide structure for funding and management of large scale projects
Lunch and learns are available highlighting Ardurra's project portfolio and services
Click here to see John's presentation: https://ritochpowell.sharefile.com/d-s77425199d3ac4d15ac8c14ca18c87723
Rebecca introduced this month's speakers and co-chairs of the Water Resources Committee, Valerie Swick of Bureau of Reclamation and Jake Lenderking of Global Water Resources. Valerie provided an overview of the Bureau of Reclamation and Jake Lenderking provided context to the basin study.
Presentation Agenda: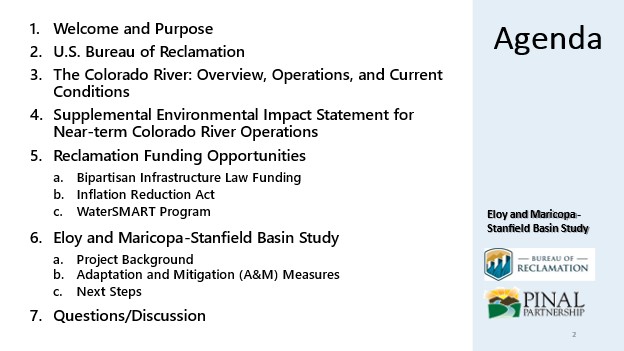 View recorded presentation:
https://us06web.zoom.us/rec/share/NLwcbPRrtgTN79mWaSX3WsBDp5qXUfee4dRBZPAKSt2H9NkicxqPEmCvlumOiuY.3ky1lUxyxrzA7yEc?startTime=1684854972000   Passcode: ZB?%sBX1
View presentation pdf:
https://pinalpartnership.com/wp-content/uploads/2023/05/Pinal-Partnership-GR-EMS-Basin-Study-Study-5-23-23.pdf
One of the goals of the Government Relations Committee is to provide a joint presentation with other committees at least once per year.  25 attendees participated in this joint presentation.
The next Pinal Partnership Breakfast meeting is Friday, May 26th in Florence and save the date, June 16th for the next breakfast.
The next Government Relations Committee meeting is June 27th at 8:00 a.m.